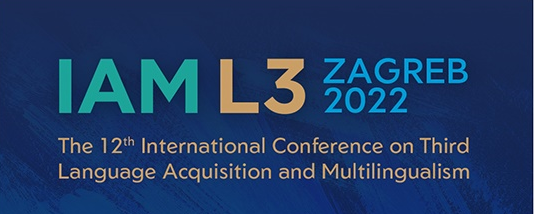 15-17 September 2022
Zagreb, Croatia
CONFERENCE SCHEDULE

 * Please find the conference book of abstracts here (permanent link in FFZG repository).
 * THE PRE-CONFERENCE  PhD workshop program
,

14 SEPTEMBER 2022
(ver. Sept 13)
 * [IAML3 2022] Conference Schedule –  download PDF  (ver. Sept 13)
***
IAML3 CONFERENCE
THURSDAY, 15 SEPTEMBER 2022
08:30-09:00 REGISTRATION (LIBRARY LOBBY)
09:15-09:30 CONFERENCE OPENING (lecture hall D7)

09:30-10:30 PLENARY TALK: DANUTA GABRYŚ-BARKER, University of Silesia, Faculty of Humanities: A diachronic perspective on multilingualism: past, present and future (lecture hall D7; presenter: Pilar Safont)
 10:30-11:00 COFFEE BREAK (LIBRARY LOBBY)
 

ROOM D1

ROOM D2

ROOM A105

ROOM A106

 

Symposium:

Engaging with Dominant Language Constellations

(DLCs) in the North (convenor: Nayr Ibrahim)

CHAIR: Greg Poarch

CHAIR: Jorge Pinto

CHAIR: Magdalena Wrembel

11:00-11:30

Duggan & Krulatz:

Evolving DLCs and identity transformation

in multilingual transnational couples

Sypiańska & Cal:

L2 as a source for cross-linguistic influence in L3 but not L4: front and back rounded vowels by quadrilinguals

11:30-12:00

Haukås, Storto & Tiurikova:

Mapping multilingual practices and beliefs

in Norwegian lower secondary schools

Berchio, Berthele & Bonvin:

Third/fourth languages as predictors of information structure in event descriptions? 

Cortes Velasquez, Donato & Ricciardelli:

Spanish as Pivot Language between Italian mentors and US Heritage Spanish Speaker mentees in Telecollaboration

Gabriel, Grünke & Schlaak:

Acquiring Spanish rhotics against the backdrop of migration-induced multilingualism: the case of German-Turkish learners

12:00-12:30

Ibrahim:

Teachers discovering and embracing their DLCs – a concrete and visual pathway to multilingual classrooms

Wolf:

It's the economy…how to model effects of processing preferences in a multilingual brain? The example of gustar-like verbs in Spanish as a L3.

Santos:

Teachers ́ perspectives on communicative anxiety and pedagogical translanguaging                      

Stoehr, Jevtović, de Bruin & Martin:

Regressive phonological transfer in early bilingual Spanish-Basque learners of English

12:30-13:00

Xu:

Detecting DLCs in EFL teachers' lives:

navigating teaching practices in multilingual classrooms

Ruiz de Zarobe:

Learning strategies across skills: A multilingual project on reading

 

Saloranta & Heikkola:

Is intonation linked to comprehensibility in L3 pronunciation?
13:00-14:00 LUNCH BREAK (LIBRARY LOBBY)

 

ROOM D1

ROOM D2

ROOM A105

ROOM A106

 

CHAIR: Irena Zovko Dinković

Chair: Stela Letica Krevelj

CHAIR: Joachim Schlabach

CHAIR: Ana Petravić

14:00-14:30

Lorenz:

Tense and aspect and cross-linguistic influence – analysis of L2 and L3 learners of English                  

Singleton & Záborská:

Language learners telling stories

Karpava:

Multilingualism and Translanguaging Space in Cyprus

Walsweer, Pulles & Hiddink: Plurilingual Dialogic Education in Fryslân

14:30-15:00

Długosz:

Cross-linguistic influence in the comprehension of reflexive possessive pronouns in L3/Ln      

Nightingale & Castelló: Affective factors in interlingual romantic relationship and their impact on the perception of EMI

Bergstra, Günther & Duarte:

A holistic approach to multilingualism in secondary education

15:00-15:30

Fernándes-Berkes & Flynn:

Development of infinitival complementation in the acquisition of multilingual learners of L3 English             

Letica Krevelj & Kovačić:

If you mind, it does matter? Defining DLCs in consecutive multilinguals' repertoires

Janík, Goldberger, Janíková & Veličková:

Balancing between diversity and homogenization: Investigation of language regimes at four multilingual schools

Günther & Duarte: Translanguaging and EFL: an intervention project for multilingual education

15:30-16:00

Alexandre & Pinto:

Relative Clauses

in a Multilingual Class             

van Zyl:

The lecturer as a linguistic landscape: a linguistic ethnographic description of lecturers in multilingual higher education classrooms

Björklund & Björklund:

DLC as a tool to document, describe and develop the multilingual state, tensions and potential in teacher practices in Finland

Dekker, Kootstra, Loerts, & Duarte:

Towards a Typology of Attitudes, Knowledge and Skills within Educational Dominant Language Constellations
16:00-16:30 COFFEE BREAK
 

ROOM D1

ROOM D2

ROOM D3

HALLWAY IN FRONT OF D1&D2&D3

 

Symposium:

Philosophy of Multilingualism (convenors: Larissa Aronin and Alfred Nordmann)

CHAIR: Agnieszka Otwinowska

 

CHAIR: Romana Kopeckova

 

POSTER SESSION

16:30-17:00

Nordmann:

The philosophy of multilingualism: finding the way

Mizukura, Llurda &

Calvet-Terré:

Language teachers' identity: Exploring the conflict between nativespeakerism and translingualism

Safont:

The pragmatics of email requests and openings in a multilingual educational setting

Horvatić Bilić:

Fremdsprachenlehrkräfte und ihre Verbände als Akteure der Sprachenpolitik – am Beispiel der Deutschlehrkräfte

Jajić-Novogradec:

The positive impact of child's metalinguistic awareness on the acquisition of a new foreign language – Russian as L4

Li:

A Positive Psychology Perspective on Multilinguals' Language Learning Experience: What Can We Learn from the PERMA

Waters:

The expression of voluntary motions by quadrilingual children – A case study

17:00-17:30

Aronin:

The philosophy of multilingualism: defining the field

Marx:

Endangered Species "Bilingualism"? How we Spin Constructs to Suit our Purposes

Pfenninger:

Emergent bilinguals in a digital world:

 A dynamic analysis of long-term L2 development in (pre)primary school children

17:30-18:00

Komorowska:

Languages across Selves and States: When Multilingualism faces Politics – Some Ethical Issues

Berthele:

Taming the fluid speaker: Reengineering multilingualism as a natural category

Troha, Šenjug Krleža & Petravić:

Entwicklung der Mehrsprachigkeit in der Pflichtschulbildung

 – Deutsch vs. Englisch als L2
18:00 RECEPTION (Faculty garden)
IAML3 CONFERENCE
FRIDAY, 16 SEPTEMBER 2022
09:00-09:30 REGISTRATION (LIBRARY LOBBY)
 09:30-10:30 PLENARY TALK: JASON ROTHMAN, UiT the Arctic University of Norway and Universidad Nebrija: Transfer (especially) at the Initial Stages of Third Language Acquisition, Theory Building and the Spectrum of Multilingualism: The Implication of Solid Bases and Scratching Heads (lecture hall D7; presenter: Magdalena Wrembel)
 10:30-11:00 COFFEE BREAK
 

ROOM D1

ROOM D2

ROOM A105

ROOM A106

 

Symposium: Multilingualism in diverse educational settings: the cases of Austria, South Tyrol/Italy and South Africa (convenors: Susan Coetzee-Van Rooy and Ulrike Jessner)

CHAIR: Pilar Safont

CHAIR: Simone Pfenninger

CHAIR: Silvia Melo-Pfeifer

11:00-11:30

Jessner:

Introduction to European contexts: Multilingualism in Austrian and South Tyrolean education: A view across all levels

Portolés & Martí:

The interplay of individual factors in defining L3 teachers' beliefs about multilingual education

Reiser-Bello Zago & Berthele:

Lexical development in narrations of trilingual children

Kresić Vukosav:

Identity in multilingual contexts: the example of Croats in Germany

11:30-12:00

Coetzee-Van Rooy:

Introduction to African contexts: Multilingualism in South African education

Neokleous:

"A motivating force": Learner and in-service teacher attitudes towards translanguaging in increasingly multilingual classrooms in Cyprus

Tachakourt:

The more, the better? An investigation of the impact of multilingualism on statistical word learning

Marinov Vranješ, Soulé & Cots:

Study abroad: an affordance or a constraint in the development of plurilingual identity

12:00-12:30

Hofer:

Early Multilingualism (South Tyrol/Italy), Title: Assessing components of multilingual competence

Kekki, Repo & Heikkola:

Pre-service teachers' reflections on the roles of language in learning

Foryś-Nogala, Broniś & Janczarska:

Cognitive aptitudes and L3 acquisition: Insights from a study using a novel miniature language, MiniItaliano

Haukås & Borlaug:

Exploring collaborative data analysis in research on, with and for multilingual language teachers

12:30-13:00

Allgäuer-Hackl, Meirer & Schlabach: Multilingualism at secondary level II (Austria),

Title: "Using many languages is part of my everyday life": Plurilingual teaching and multilingual learning approaches at upper secondary level

Dolas & Jessner:

Relationship between Metalinguistic Awareness, Working Memory and Linguistic

Giftedness: A DMM Perspective

Morea:

"If I'm not fluent, then it's not worth anything": Fostering pre-service teachers' multilingual identities during teacher education
 13:00-14:00 LUNCH BREAK
 

ROOM D1

ROOM D2

ROOM D3

ROOM A105

ROOM A106

 

Symposium: Multilingualism in diverse educational settings: the cases of Austria, South Tyrol/Italy and South Africa (convenors: Susan Coetzee-Van Rooy and Ulrike Jessner)

CHAIR: Nayr Ibrahim

CHAIR: Pernelle Lorette

CHAIR: Larissa Aronin

CHAIR: Marijana Kresić Vukosav

14:00-14:30

Fakude:

Multilingualism at high-school and university level (South Africa), Title: English-Sepedi reading in school and at university in South Africa

Müller-Lancé, Kropp & Eibensteiner:

Cross-linguistic vs. traditional teaching methods: an intervention study

Gastmann, Öwerdieck, Stier, Schimke, Hopp & Poarch:

Differences between adolescent L2 and L3 learners in sentence processing

Balas, Wrembel, Krzysik & Lewandowska:

A multi-feature analysis of speech perception in multilingual learners:

a longitudinal

perspective

Mostert:

Family Language Policies: Opting for Afrikaans in English dominant South Africa

14:30-15:00

Pienaar:

Multilingualism at university level (South Africa), Title: "I need to switch to my English brain first!" Strategies and mechanisms employed by Afrikaans-English bilingual first-year university students

Paquet & Woll:

Developing crosslinguistic awareness of adult L3 learners of French through plurilingual consciousness-raising tasks

Otwinowska-Kasztelanic, Foryś-Nogala, Ambroziak, Silva, Broniś & Janczarska:

Does cumulative L1-L2-L3 lexical similarity impact learners' L3 word knowledge more than L2-L3 similarity?

Cal & Wrembel:

Categorising perception of VOT continuum in multilingual learners

15:00-15:30

Final discussion

Woll:

How crosslinguistic awareness-raising in German (L3) impacts the pedagogical stance of student ESL teachers in Quebec

Berényi-Nagy & Győri:

Multilingual metonymic competence: On the role of figurative thinking in third language acquisition

Weckwerth, Wrembel & Balas:

Investigating multilingual vocalic space: Spectral overlap and separation in three vowel systems

Barnes & Almgrem: Multilingual learning about language acquisition in the Basque Autonomous Community of Spain                      

15:30-16:00

Horváth & Jessner:

The effects of raising multilingual awareness: Teaching German through English to Hungarian 9th graders. Results of the pilot project

Agebjörn & Sayehli:

Cross-linguistic influence and language-learning aptitude in L3 acquisition of functional morphology

Gut, Kopečková & Nelson:

Modelling phonological development in multilingual speakers
16:00-16:30 COFFEE BREAK
16:30 GENERAL ASSEMBLY (lecture hall D7)
 19:30 CONFERENCE DINNER (Restaurant Maksimir, Maksimir Park, Maksimirski perivoj 3, Zagreb)
IAML3 CONFERENCE
SATURDAY, 17 SEPTEMBER 2022
 09:30-10:30 PLENARY TALK: LIDIJA CVIKIĆ, University of Zagreb, Faculty of Teacher Education: Multilingualism under the monolingual surface: the case of Croatia (lecture hall D7; presenter: Stela Letica Krevelj)
 10:30-11:00 COFFEE BREAK
 

ROOM D1

ROOM D2

ROOM A105

ROOM A106

 

Symposium: Visualizations of Multilingualism     

(convenor: Sílvia Melo-Pfeifer)

CHAIR: Lidija Cvikić

CHAIR: Marina Grubišić

CHAIR: Anna Krulatz

11:00-11:30

Melo-Pfeifer & Aronin:

The use of visual methods to envision multilingualism: epistemological, historical and methodological perspectives

Dmitrenko:

"The M-SILL Questionnaire:

a new Tool for Exploring Language Learning Strategies of Multilinguals"

Witney:

Adverbial placement: Evidence of positive transfer from L2 French to L3 Spanish

Torgersen, Krulatz & Lorenz:

Teacher voices, teacher actions: Practical aspects of responsive pedagogy in linguistically heterogenous EFL classrooms

11:30-12:00

Oštarić:

What you see isn't what they speak: Discrepancies between the written and spoken language practices in the public space of Zadar, Croatia

De Angelis:

An integrated approach to multilingual testing and assessment: assessing

narrative abilities across multiple languages

Dahl, Busterud & Faldet Listhaug:

The relationship between L2 proficiency and transfer in L3 acquisition

Alisaari, Kaukko &

Heikkola:

The joys of teaching language learners in Finnish classrooms

12:00-12:30

Pereira da Costa Wätzold:

"What if you had to explain how to learn Portuguese in a drawing?" – a report about visualizing the heritage language

Hržica & Poropat Jeletić:

Self-assessment of multilingual speakers as a measure of language proficiency

Kowal:

What do pauses and revisions tell us about cross-linguistic influence? A developmental perspective

Bier & Lasagabaster:

Language use and attitudes of prospective teachers: A comparison of the Basque and Friulian multilingual educational contexts

12:30-13:00

Poropat Jeletić, Moscarda Mirković & Hržica:

The Istrian spoken multilingual corpus: a representation of a sociolinguistic reality

Jelić:

Learning Spanish L5 in Croatian FL Education Context: A Case Study

Villabona:

Learning and Teaching Through the L3: Classroom Pedagogies and Multilingual Practices in CLIL
13:00-13:30 CONFERENCE CLOSING (lecture hall D7)


Image source: Zagreb Tourist Board, M. Vrdoljak